We arrived at Toulouse (Gare Matabiou) courtesy of an overnight train where we only had bunk bed (couchettes), not seats. After freshening up and petite dejeuner at the station, we went to rent a Citroen, but discovered, that opening was only at 9am on a Sunday. So instead we went to drop bags at the Pheonicia, but to our happy surprise were given our room.
We drove down to Tarascon sur Ariege, stopped in at the tourist office. Then struggling to find anything open on a Sunday, we abandoned plans for picnic on the Ariege and instead had kebab. Very tasty kebab however, huge amounts sauce on the halal chicken(?)
Driving a little further along the valley to Niaux and then a short climb up the hillside brought us to the Grotte de Niaux. A large overhang hosts a tourist office and lookout, as well as being the way into the cave system through a man made entrance.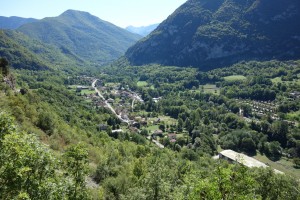 The original entrance is quite silted up and almost impassable. The graffiti on the 800m approach to Salon Noir was a remakable entree to the cave art, with crude "I was 'ere" style charcoal names & dates. The earliest was I think in 1584 and a large number in 1700 and 1800s. In the Salon Noir, quite high in the cave complex, it opens out to a circular chamber with a very high roof. Around the chamber, paintings of bison, ibex and horses were in various levels of preservation, from quite damaged and indistinct, through to "could have been done yesterday".
Photography within the cave is not permitted.
We drove back through to Tarascon, and took some time to explore, climbing up around the ramparts (which were the back doors of houses numbered 1 & 2 on their street). Exploring some tiny cobbled laneways and a church that was probably used as a place of worship for Cathars.
We took the slow route back to Foix, driving a complete loop through numerous small villages in the Pyrenees, including a circuit around Montsegur. Sadly, there wasn't enough daylight hours remaining to climb the castle that was one of the last hold-outs of the Cathars.
Driving back to Toulouse took us through Foix, so we stopped briefly for dinner, cassoulet of duck and a salad, and a couple of more glasses of very inexpensive but good wine.